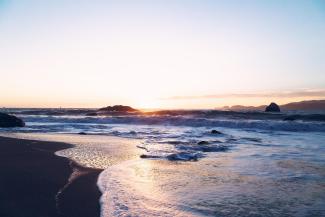 Are You Satisfied Or Are You Happy?
Recently, my wife, Jackie & I had our kitchen renovated. After months of meeting with different interior designers and contractors, we finally selected the individuals we would hire to complete the arduous task. It was an intense process, but in the end, we can say that we are truly happy with the selections we made and are proud to gather around the kitchen table when company comes over. Would we feel the same way about our new kitchen if we were only satisfied with the finished product?
It's interesting to consider that satisfaction and happiness are often lumped together, when they are in fact mutually exclusive. When you are given a receipt at a store, at the bottom you will generally find information on how to complete a "Customer Satisfaction Survey." How often do you look down to the bottom of a receipt and find information on how to complete a "Customer Happiness Survey?" Many major chain stores assume that if you are at least satisfied by what they have offered, that you must be happy with them, when that may not entirely be the case.
Through my work at Marathon Wealth, I have always strived to make sure my clients were happy and not just satisfied. I believe that being "satisfied" by something implies that the service or product you received was just "good enough." Happiness on the other hand to me means that you reflect positively on the service you received or that you thoroughly enjoy the product that you purchased. Happiness is the benchmark I believe we should all set out to obtain.
Taking things a step further, consider life and finances when it comes to happiness and satisfaction. Would you want to look back at your life and just be satisfied or would you want to take steps now to ensure that you are happy with the life you live? As it pertains to life and finances, discovering and working towards true happiness begins with understanding your values and setting goals that align with them. If spending time with your family is important, set goals and commit to a financial plan that will support your ability to be home with your loved ones more often. With that proper Financial Life Plan and the determination to follow through on it, you can find happiness.
At Marathon Wealth, we work with clients from all different backgrounds, with all different needs, values and goals. The one thing we want for them all to be, is happy. So, next time you reflect on a product, service or decision you've made, ask yourself, "Am I satisfied or am I happy?" The answer is truly important.
Marathon Wealth Management, Inc. ("Marathon") is a registered investment advisor with the U.S. Securities and Exchange Commission. Marathon provides investment advisory and related services for clients nationally. Marathon will maintain all applicable registration and licenses.