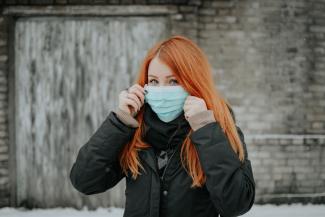 From the desk of Managing Director, Aaron Lieberman:
Resiliency is important, especially during times of uncertainty. It is no secret that the COVID-19 pandemic has caused many to second guess how they approach several areas of their lives, including their financial planning. However, it's important to remember that short term decisions can have long term consequences. At Marathon Wealth, we are here to assist our clients in all aspects of their financial lives, including their financial resiliency.
If you are looking for guidance on how to handle this unprecedented event, I suggest reading the attached article and completing the attached checklist. If you need assistance, my team and I would be more than happy to step in and review your checklist, as well as your spending plan. I believe that starting small and looking for little wins is a great way to build up resiliency. It can help you feel a sense of accomplishment and give you clarity on what is truly important.
Views and examples shown in this material are for informative purposes only. Marathon Wealth Management, Inc. ("Marathon") is a registered investment advisor with the U.S. Securities and Exchange Commission. Marathon provides investment advisory and related services for clients nationally. Marathon will maintain all applicable registration and licenses.
Resilience in the Time of COVID-19
The COVID-19 global pandemic and resulting economic uncertainly have had a profound effect on our sense of safety and control. The closest experience that many of us have had in our lifetimes was the financial crisis in 2007-2008 followed by a deep recession. Although the root causes are dramatically different, the impact on our sense of financial well-being is similar. Few of us expected to face such challenging economic circumstances again within such a relatively short period of time.
Nevertheless, here we are. None of us is immune—we all encounter challenges in our lives. Weathering these storms requires both practical strategies and emotional fortitude. As individuals and families, it is time to assess our current reality, take whatever steps we can to improve our lives now, and plan ahead for the next financial challenge that we will undoubtedly experience in the future. Virginia Satir wrote:
"Life is not the way it's supposed to be. It is the way it is. The way you cope with it is what makes the difference."
Therefore, nurturing your resilience is the best way that you can prepare for the unplanned and the unexpected that will come your way. Resiliency is a personal characteristic that can help you navigate life in the uncertain sea of change. In addition, this trait of inner strength will give you the ability to bounce back from setbacks and disappointments.
In your financial life, as in all other areas of life, it is important to nurture your ability to rebound from loss and difficult circumstances. Keep in mind that the bedrock for building your financial life is establishing a foundation of economic resilience for you and your loved ones. In addition, from the emotional perspective, financial resilience requires bolstering your confidence in your ability to prepare for and deal with financial challenges—now and in the future.
To help you in this quest, there are several tools that you can utilize to manage risk and protect yourself from financial reversals. The better prepared you are, the quicker you will recover economically and emotionally.
On the next page, you will find a checklist of the most important financial protection tools. This checklist will help you to make a quick assessment of your current level of financial resilience and determine the action steps needed to "upgrade" your economic security plan.
For each financial tool listed, mark the box that is most appropriate for you. Next, discuss your responses with your financial advisor to help you evaluate the best options for upgrading your financial resilience plan.
Tool

Description

Have

Have/ Review

Don't Have

Emergency Fund

Money set-aside in a savings or money market account to be used in case of emergency. At the very least, save enough to cover the costs of unexpected car repairs, emergency travel, or replacing a broken major appliance. Ideally, this account should grow to the equivalent of three to six months living expenses in case income is lost or reduced.

 

 

 

Auto Insurance

This insurance is purchased to 1) cover legal liability resulting from ownership and/or operation of an automobile and 2) physical damage to and loss of an automobile.

 

 

 

Homeowner s

or Renters Insurance

Homeowners insurance typically covers the structure and contents of the dwelling and out buildings, landscape materials, and personal liability. Renters insurance typically covers personal property in a rented house or apartment and personal liability.

 

 

 

Umbrella Liability Insurance

This coverage covers financial loss due to personal liability that exceeds the personal liability coverage offered through other insurance such as auto or homeowners policies.

 

 

 

Life Insurance

Life Insurance is typically purchased by individuals who have dependents. At the time of death of the insured, the death benefit is available to the designated beneficiary immediately and automatically.

 

 

 

Health Insurance

This insurance helps individuals pay the costs of regular health care and protects them against the catastrophic health care costs that can result from treating illness and/ or injuries.

 

 

 

Disability Insurance

This is a form of health insurance that provides periodic payments to partially replace income lost due to illness, injury, or disease.

 

 

 

Long-Term Care Insurance

This insurance pays for the long-term care of an individual who, as the result of physical or mental disabilities, can no longer accomplish the tasks of everyday living such as bathing, dressing, or eating.

 

 

 

Durable Power of Attorney

This legal document gives direction as to whom you choose and trust to make your health care and financial decisions in the event that you are temporarily or permanently unable to do so.

 

 

 

Will

A will is the first step of estate planning. It is a legal document that specifies how and to whom you would like to have your assets distributed at the time of your death.

 

 

 
Reprinted by permission of Money Quotient, Inc.